Here's a small summary of what's been happening in The Zeitgeist Movement and related groups.
It was August when the last newsletter was sent.

The 2019 global Zday event will be held in Buenos Aires, Argentina. The first time it'll be in Latin America. But we are looking for help. In order to cover the costs of a real time translator without making the cost of the event unbearably expensive for those in the region who have been going through major economic strife they have launched a crowd funding campaign. They've raised $1,300 of the required USD $2,000


Have a look at their incredible video about it. With quality that good you know the event will be worth it.

Updated Intro video: https://www.youtube.com/watch?v=CVMNp4Y0dVo
Facebook: https://www.facebook.com/events/168064074096472/
GoFundMe: https://gogetfunding.com/zday-2019-main-event-buenos-aires/


For those wanting to quickly view the latest TZM news check out the news site: https://news.tzm.community/
It shows a list of messages posted to the Discord server in the #development_and_news channel with at least 3 likes / thumbs up.
This awesome ability is thanks to Juuso the Finland coordinator as part of his TZM weekend hackathon work. You can email him at juuso@vilmunen.net for more information


For those interested in being active, engaged members there is a suggested communications protocol. The aim is to get people to at least one of the two monthly meeting so we can be informed of what is happening and help with the myriad of projects happening.

You can read the full communications guide here and the important points are listed below.
Communication Protocol
Expectation: Approximately 3 hours work a month

1. Once a week check the announcements channel #development_and_news channel in Discord http://bit.ly/tzm-discord

2. Make sure to properly write announcements that are relevant for everyone to read and post them in the #development_and_news channel in discord

4. Once a month attend at least one of the two global meetings. It is not necessary to attend both

The meetings are on :

–  The last Saturday of every month at 9:00 UTC in the (voice) International channel. On Discord ( http://bit.ly/tzm-discord )

or

–  The last Wednesday of every month at 21:00 UTC. On Team Speak


Team Speak Server Details
Server Nickname or Address: tzm.teamspeak3.com
Password : Tzm_GHJ

If it's not possible to attend then you can read the minutes

As part of the awesome work that Erykah Sundance has been doing in getting the post-scarcity, post-monetary groups together The Zeitgeist Movement has signed the Common Heritage pledge.

https://www.commonheritage.us/

The pledge in its final form:

I declare the Earth as the Common Heritage for all life.

I support a global transition to a system based on science and the Earth's capacity to sustain us. Replacing resource competition, money/trade and private property with sharing earth's resources, goods, services, technology and knowledge.

In this system, I pledge to freely contribute my skills and motivations with my time and labor. To serve a community that serves me, that fulfills my basic needs, and does not subjugate me in any way.

I do this with the knowledge that others will too, and hereby affirm my commitment for co-creating a better world for me, and for all.

You can learn more at the Common Heritage website or view the final document.

Below is a work in progress image of other various Common Heritage groups: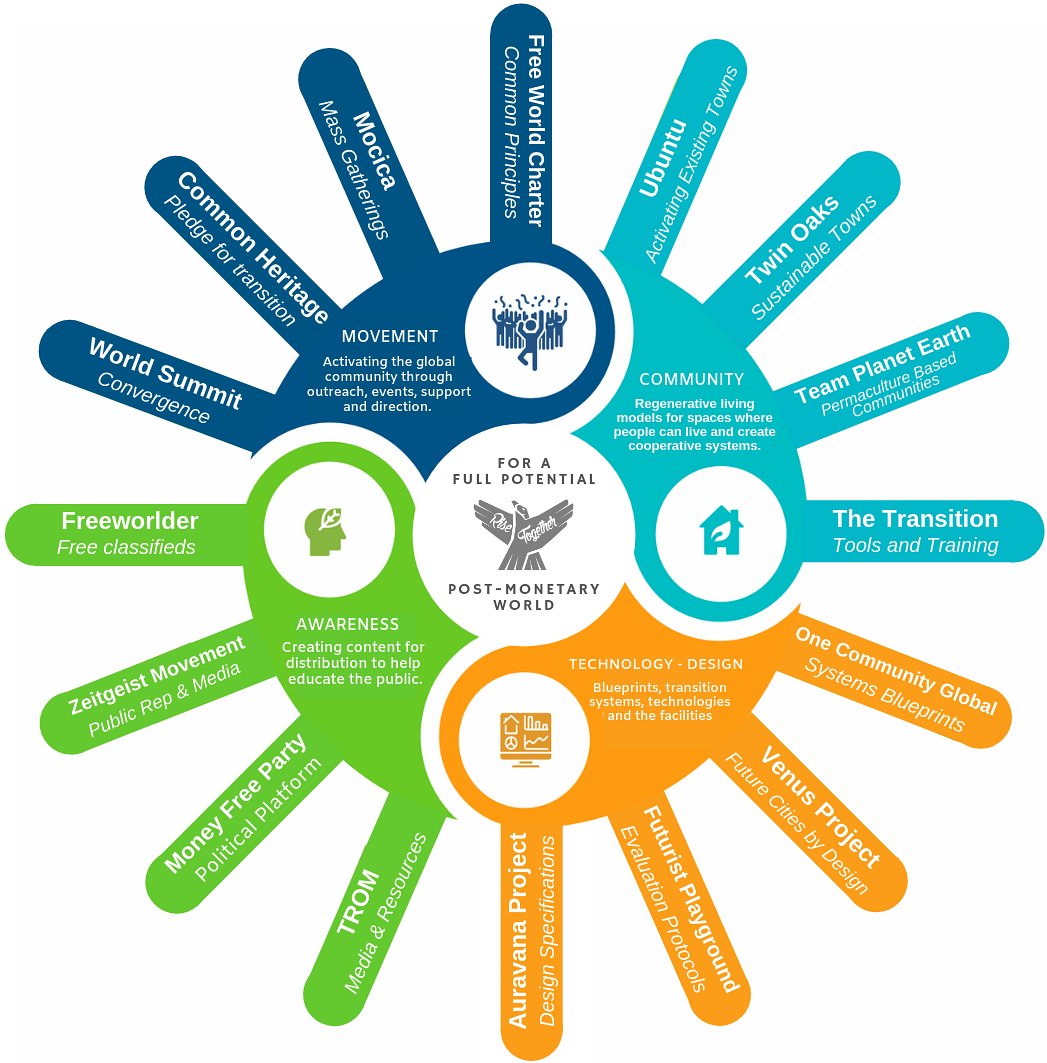 The TZM European meetup will be from the 1st to 8th of July 2019 in Enköping, Sweden. It looks to be an amazing time with a big line-up of guests, including Eleanor Goldfield.

Facebook event: https://www.facebook.com/events/285168392092346
You can buy tickets from https://www.tickettailor.com/events/tzmsweden/206271

The latest videos released on the TZM official YouTube channel are:

Michael Kubler : The Price of Zero Transition to an RBE, Zday 2018
Michael Kubler talks about transitioning to a post-scarcity / abundance centered society by first getting the necessities of life to be free to everyone on the planet, using what he calls the Price of Zero transition.

His slides are available at http://bit.ly/price-of-zero-slides
---
"A Picture of Transition" looks at several looming economic crises in energy and resource overshoot, challenges that we will face in transitioning to a renewably-powered circular economy, social adaptations that need to be made, how they can improve quality of life, and with case studies, shows how you can get this ball rolling in your local community, making almost anything from almost nothing.

---
Want to contribute to the newsletter? Email newsletter@zeitgeist-info.com with any news or updates.
As these are only sent a couple of times a year, you should post to the #development_and_news Discord channel if there's more timely news. Then it can get automatically added to the TZM news portal.

We hope you have a great 2019.
Happy RBE!